Hey Tea lovers!!! I know this is not a movie or tv series review blog or something, but I just wanted to share some suggestions with fellow programmers. This pandemic has surely changed our world and our thinking. It is a catastrophe for some people and on the other hand blessing in disguise for some. Nonetheless, it gave us time to think. Some are utilizing it in their study or learning new skills, expanding their business, or spending family time.
But sometimes you just get bored and want to enjoy or relax in your free time. The only problem is you can't go outside due to the pandemic. So the common option nowadays is via Movies, Tv-series, or games.
In this post, we will talk about the tv or web series for programmers and why should they watch them (before dying, obviously). This series will give you that "Yes, this relates to me" moments along with entertainment. This list contains the top 4 series for programmers which I loved watching personally and some other bonuses. These series are from various platforms such as Amazon Prime Video, HBO, TVF play, etc.
If I missed something that you think should be added, please feel free to comment. I will also share the Movies in the next post only on CodersTea. So fry some Pakodas with your tea to binge-watch the shows after this post. So, here we go.
---
I would be happy to connect with you guys on social media. It's @coderstea on Twitter, Linkedin, Facebook, Instagram, and YouTube.
Please Subscribe to the newsletter to know about the latest posts from CodersTea.
---
4. TVF Pitchers
This series is not exactly based on programming but on a startup struggle. This is about the journey of Navin and his mates to create a startup from his idea of Navin. This comedy-drama series gives not only entertainment but also, shows you the roller-coaster ride of the entrepreneurs. You must have heard the phrase "Tu beer he Bhe****", yes, it's from this series. The best thing about it is that it's free on TVF play. It only has one season with 5 episodes released in 2015 and since then people are becoming more and more hungry for the second one.
3. Mr. Robot
Probably the closest to the real world of hackers. It is on the opposite side of exaggerated hackers in the movies who work on green animated GUI and with a few random keyboard clicks hack the NASA or FBI. I once saw the Java code for pattern printing from GeeksForGeeks in one of the series on the screen of a hacker who was hacking India's national database.
Ok, so back to Mr. Robot, for a programmer or coder who knows how things work in the computer world, this will make you feel that you are the one doing it. This is a dark-themed series, I would say, and have lots of mysteries about Mr. Robot. With 4 seasons it will take time to binge-watch it. You can watch it on USA Network. Update: It is now on Amazon Prime Video.
2. Upload
The Sci-fi series based on virtual reality gives us the view of how a person can live forever in virtual reality. It's fun to watch. It closely resembles the game we play but it's our life now and we can't log out or come outside of it. And has all the familiar things such as in-app purchases, customer service, and free limits also. It also shows how the future looks like with technology getting more and more powerful and we as a human getting distanced from each other even though we are close. This also has a mystery to it, but for that, you have to watch it on Amazon Prime Video. I can't wait for the second season already.
1. Silicon Valley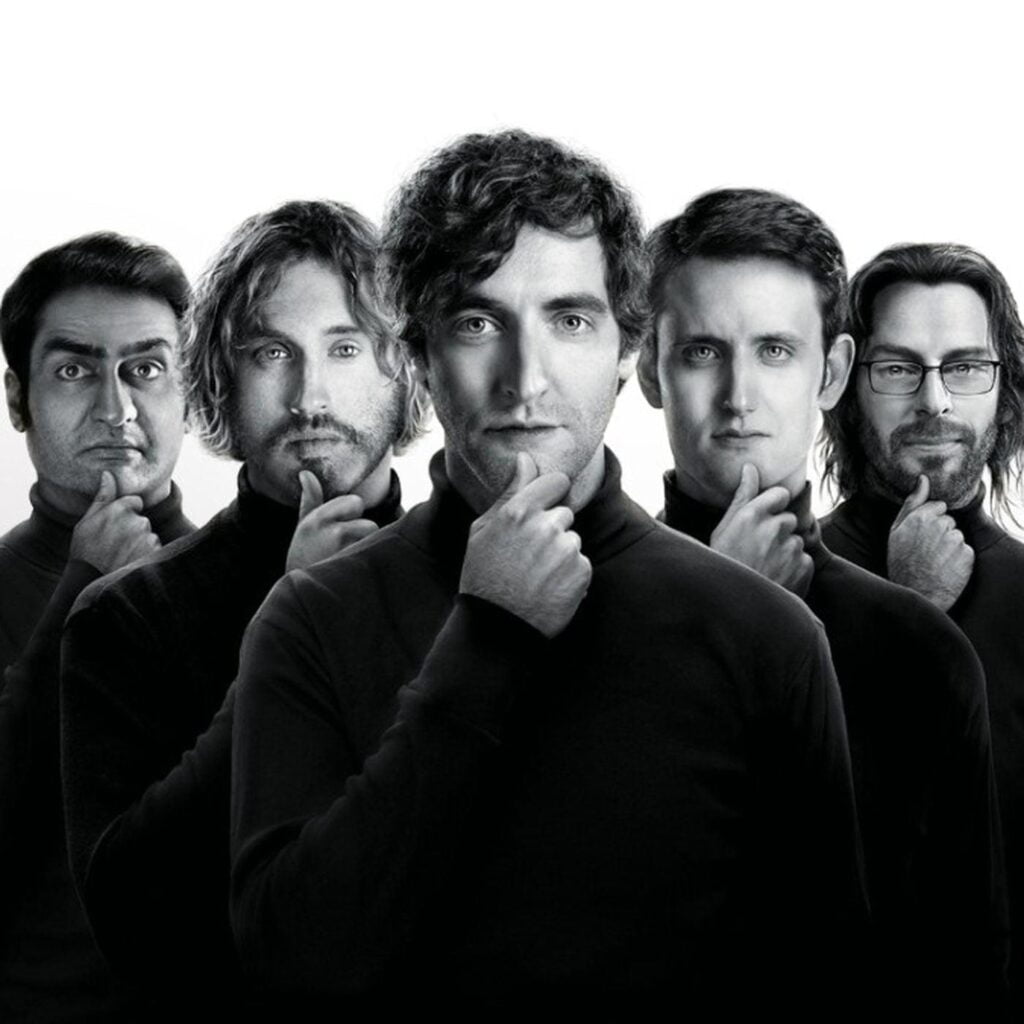 It's something you were looking for on the list, isn't it? Well, here it is. Probably the most favorite series of programmers. This 6 season's comedy series has made a special place in my and millions of other programmers' hearts. This is the journey of Richard, a programmer, and his app Pied piper along with fellow team members. It shows us all the aspects of a startup and how they struggle around other startups or big giants who want to eat them alive, people trying to copy or reverse engineer their product, fights between the company itself, and many more in a comic way.
At the end of each episode, you are on the edge of your seat, wondering what's going to happen next. For that to know, I had to wait for a week, but now you can binge-watch it since the series is completed with 6 seasons. I don't think I can summarise this series in this small paragraph, since it is a beautiful masterpiece. All the characters have their own story and again, you will love them as much. And they also have a real website where the character Jared writes the blog. You can watch it on HBO.
Bonus Series
Well, these 4 are what I think are mandatory for each programmer and every person will love them. But I also want to mention which are interesting. However, I didn't watch a few of them but I am looking forward to watching them in the future.
The IT crowd
I haven't seen it myself but lots of other people have suggested I watch it. I will watch it after this post and will let you know how I liked it. This British sitcom is based on the guys from IT guys in a company.
Rick and Morty
Not on the programming but the science. This sci-fi comedy series will let you laugh or make you think deeply. This series is a perfect mixture of sci-fi, comedy, sarcasm, sitcom, and many others. You can watch this on Netflix.
Halt and catch fire
Based in early 1980 when the computer is booming. I just started the series but I think after watching it I would place it on the above list.
Conclusion
And that's it for this post. Most of you must have watched all the series, kudos to them. It was my first attempt to write some articles apart from some tutorials. I hope you liked it. If you want to add any other series which I missed, then please feel free to add them in the comment. I will surely consider it and update the post accordingly. See you in the next post or you can read other posts on Best Practices, Java, Spring, and tools.
See you in the next post. HAKUNA MATATA!!!
---
I would be happy to connect with you guys on social media. It's @coderstea on Twitter, Linkedin, Facebook, Instagram, and YouTube.
Please Subscribe to the newsletter to know about the latest posts from CodersTea.
---